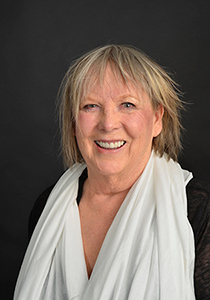 Karelia, Finland was where my Finnish heritage began. Both sets of grandparents migrated to Canada in the early 1900s. I am Canadian born. From 1946-1965, I grew up amongst a Finnish logging community of Longlac in northwest Ontario, Canada. My father was my idol who showed me by example that we are all equal. Summers were spent at Pagawachewan Lake 40 miles from Longlac by highway, gravel road and water. My brother, sister and I spent summers bare foot and fancy free in or on the water.
My first language was Finn until school age and lost that connection through the years when I moved away from Longlac to study my Nursing career in Thunder Bay located at the head of Lake Superior. After marriage, children and further studies in University, we slowly moved west and north to Yukon. I have lived in Yukon, Canada, since 1979.  I reconnected to my Finnish roots with my recent six-week trip to an art-in-residency in Koli, Finland in Northern Karelia, granted by Yukon Advanced Artist Award. A major solo show based on Kalevala the Finnish national epic is pending for 2019 at Yukon Art Centre, Whitehorse.
What is most important to me: my three sons and grandchildren, my Loponen family, my heritage, nature and art. Love for art as a child was encouraged by my parents and by my uncle who studied as an architect. After a number of practical career choices, the creative process always kept me sane, engaged my mind with adventure and challenges. Art became my creative Muse, a friend that took me by the hand along a journey, for meaning, for Truths, for life and to find soul. The relationship gave me a sense of place in the tangible and intangible worlds. Nature is my sanctuary.